Prime Minister interacts with students in the 5th Pariksha Pe Charcha Programme

More than 75000 EMRS students and faculty of about 350 Eklavya Model Residential Schools attended the Pariksha pe Charcha session

The Prime Minister, Shri Narendra Modi, interacted with students on the subject of upcoming exams today in the 5th Pariksha Pe Charcha Programme. The programme was organised at Talkatora Stadium in New Delhi, where school students of grades 9th to 12th, parents, and teachers had heart to heart interaction with PM.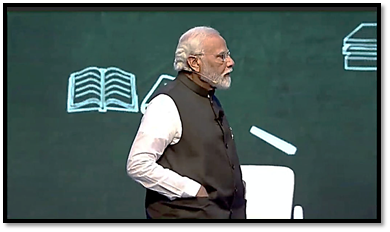 The fifth edition of the programme was especially significant in light of the country's recovery from the COVID-19 pandemic and the return of offline exams. The students, teachers, and parents, who were selected to ask the Prime Minister questions, were selected from an online creative writing competition with an array of subjects. The competition was organised through the MyGov platform from December 28, 2021, to February 3, 2022. In this edition, the Pariksha Pe Charcha Creative Writing Competition welcomed 15.7 lakh participants, comprising more than 12.1 lakh schoolchildren, 2.7 lakh instructors, and more than 90 thousand parents.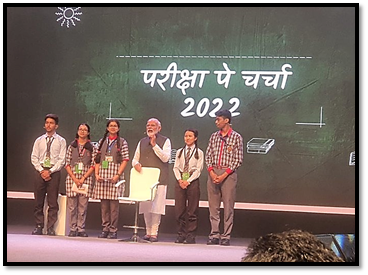 PM replied to array of questions like the expectations of parents and teachers, self-confidence and sincerity, with the students and listened to all their queries before giving them the mantra to tackle disappointment and stress, mantra of success and bringing glory to the country. He further emphasised the need for educating children irrespective of their gender and understanding the exhaustive NEP 2020 which is going to open newer avenues of learning and redefining education.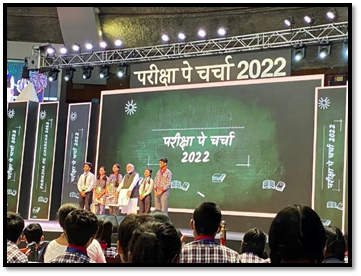 The program organised by Ministry of Education's Department of School Education and Literacy was telecast live on Doordarshan (DD National, DD News, DD India), radio channels, TV channels, digital media, including YouTube channels of EduMinofIndia, Narendra Modi, PMO India, PIBIndia, Doordarshan National, MyGovIndia, DD News, Rajya Sabha TV, Swayam Prabha.
More than 75000 EMRS students and faculty of about 350 Eklavya Model Residential Schools across country participated the session, shared their views and patiently heard the Prime Minister's words of wisdom concerning academics and the techniques to approach exams stress-free.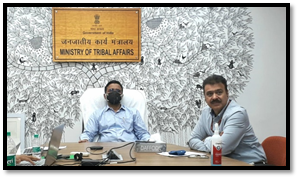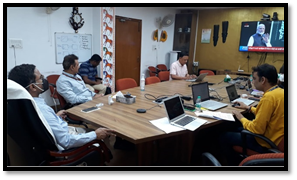 Sh. Asit Gopal Commissioner EMRS attended the program at Talkatora stadium. Senior officers and staff of the Ministry virtually attended the Programme. From the videos and photos shared by the EMRS students across country, their enthusiasm of interacting with the PM can be seen.