On the occasion of World Environment Day NMCG Organizes Grand Finale of Ganga Quest 2022

DG, NMCG participates in webinar on Namami Gange organised by ICCR in Thailand

NMCG and a group of NGOs carry out cleanliness and awareness drives at Yamuna ghats in Delhi
On the occasion of World Environment Day, the Grand Finale of the Ganga Quest 2022, the online quiz, was organised by National Mission for Clean Ganga (NMCG), today. There has been a significant increase in the number of participants who played the quiz. The international participation also grew stronger showing the inspiring global reach of the Ganga Quest 2022. Within India, 683 districts took part in the 4th Edition of the annual Ganga Quest. The category-wise provisional winners of the Ganga Quest 2022 are Mawiya Srivastava (1st prize), Bandana Kaur (2nd prize) and Monika Swami (3rd prize) in Category-I: Up to Class VIII, Anirudh Nair (1st prize), Renu Saini (2nd prize) and Pratik Adarsh (3rd prize) in Category II, Class IX-XII and Sanjay Holani (1st prize), Khushi Maheshwari (2nd prize) and Shubham Mantri (3rd prize) in Category III, Adults.
To mark the World Environment Day, a webinar was also organised on Namami Gange by the Indian Council for Cultural Relations (ICCR) in Thailand. Shri G. Asok Kumar, Director General, NMCG gave the introductory remark at the webinar. DG, NMCG gave an overview of the Namami Gange Programme and said that the target of restore Nirmalta of Ganga has been achieved to a large extent and the testimony of this achievement was the Kumbh Mela 2019 during which more than 20 crore people bathed in River Ganga. He also talked about 'Arth Ganga', which aims to connect people with the river through the "bridge of economics". He informed the audience that under Arth Ganga six verticals are being worked upon–Zero Budget Natural Farming, Livelihood Generation Opportunities, Cultural Heritage & Tourism, Monetisation and Reuse of Sludge & Wastewater, Public Participation and Institutional Building. He invited the people from all across the globe to be a part of great tradition of India and River Ganga.
Addressing the participants of the Ganga Quest 2022 Grand Finale through a video message, DG, NMCG said that Ganga Quest was started in 2019 and since then it has been going from strength-to-strength. It is to make people aware of the various activities related to Ganga Rejuvenation. More than 1.7 lakh people participated and over 7 lakh people registered for the quiz. Executive Director (Technical), Shri D.P. Mathuria said that people are the messengers of Clean Ganga Mission and take the message of Namami Gange forward.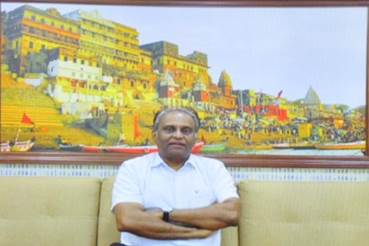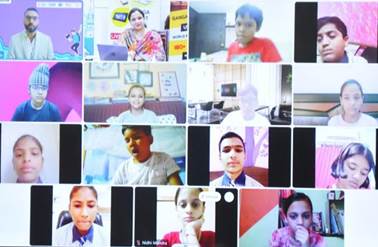 In the Ganga Quest 2022, amongst States, Jharkhand showed the highest participation, followed by Delhi and Uttar Pradesh. All Ganga Basin States showed high participation because of the outreach efforts by the State Missions, District Ganga Council, ground-based volunteers such as NYKS Ganga Doots, Ganga Mitra, Ganga Praharis, Ganga Vichar Manch, educational institutions to list a few.
The online quiz kick-started on World Health Day, April 7th and ended on May 29th, 2022. The first round of the online quiz were audio-visual questions covering all 4 themes whereas in second round, participants were asked to select only one of the four themes from where the questions were selected. The four themes include Azadi Ka Amrit Mahotsav & Arth Ganga, Physical Geography & Famous Places/Personalities, Current Affairs & Governance and Flora and Fauna & Pollution/Water Treatment Technologies. The live quiz was conducted by professional quizmaster, Mr. Ajay Poonia. The top 3 winners of each category will be awarded with laptop, and tablet/kindle; all 168 qualifiers of live quiz will get a cash prize of Rs 2,500.
Ganga Quest 2022 aimed at enhancing knowledge and sensitizing the children and youth towards river Ganga; its characteristics – physical geography, historical and cultural significance, flora and fauna; its governance–current affairs and prior efforts; famous places & personalities; socio-economic and livelihood; pollution and water treatment technology. The Ganga Quest 2022 was hosted on CLAP 4 Ganga, the Continuous Learning & Activity Portal, an initiative by Namami Gange.
To observe the World Environment Day, NMCG and a group of NGOs also conducted cleanliness and awareness drives at ghats along River Yamuna in Delhi. On 28th May 2022, Clean Yamuna campaign was launched by NMCG in which students from school/colleges, officials from Delhi Jal Board, Municipal Corporation of Delhi etc. participated. Shram Daan activities were organised at 7 ghats along River Yamuna.