Principles of South-South cooperation guide India's warm and friendly relations with Africa: Vice President

'India and Senegal are natural development partners, with similar democratic values, pluralistic traditions and cultural affinities'

Immense scope for Indian companies to invest in Senegal: Vice President at India-Senegal Business Event

Vice President addresses UCAD University in Dakar, Senegal
Posted On: 04 JUN 2022 3:53PM by PIB Delhi
The Vice President, Shri M. Venkaiah Naidu, called for fully exploring the complementarities and opportunities in economic ties with African nations to bring about quicker and sustainable mutual progress. He said that the principles of global "South-South cooperation" guided India's warm and friendly relations with all African countries. He added that as India emerges as a key driver in global governance and global growth, African nations will continue to play a prominent role as India's trusted partners and stakeholders in its prosperity.
Shri Naidu was addressing the gathering at the Universite Cheikh Anta Diop in Dakar, Senegal – one of the largest Universities in West Africa – on the topic 'Tiranga and Teranga - 60 years of diplomatic relations between India and Senegal' yesterday. Shri Naidu is on a four day visit to the country, which is the first-ever State visit from India to Senegal
"Peace, respect, receptivity, democratic ethos encapsulated in the Senegalese term of "Teranga" are the foundational values that have brought Senegal and India together and continue to provide the inspiration to work together and move together towards peace and prosperity for our people", the Vice President said.
Noting that India and Senegal have had a fruitful 60 years of diplomatic relations, the Vice President Shri Naidu observed that both countries have pluralistic traditions, believe in cultural tolerance and that these values form the core of people-to-people relations. He pointed out that India, as the largest democracy in the world, and Senegal, as one of the most stable and model democracies in Africa, are natural development partners and share a natural affinity with each other.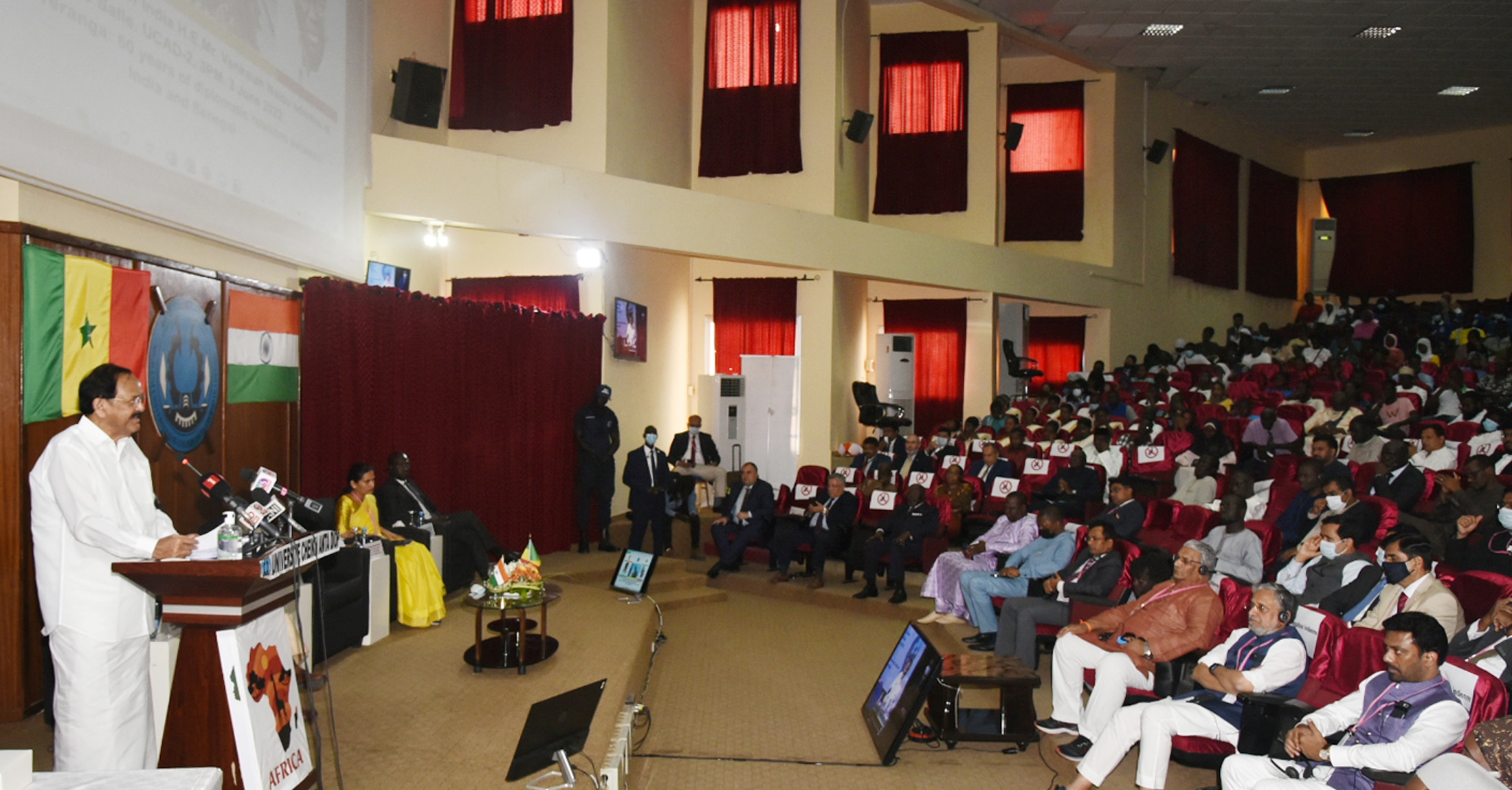 The Vice President, Shri M. Venkaiah Naidu addressed a gathering on the topic "Tiranga and Teranga - 60 years of diplomatic relations between India and Senegal" at the Universite Cheikh Anta Diop (UCAD) in Dakar, Senegal on 3rd June 2022.
The Vice President also noted how both countries share a cultural affinity – pointing out to research on linguistic similarities between the Senegalese languages (Wolof, Serer and Fulani) and the Dravidian languages, and referring to how Indian cinema is widely watched and loved by Senegalese people.
Recalling his visit to the Monument of African Renaissance a day earlier, Shri Naidu said that he was impressed by the transformational vision of Senegal's leadership. He added that he was also touched by Senegal's gesture of giving a place of prominence in the monument to Mahatma Gandhi, which he said is a testimony to Senegal's commitment to Gandhiji's ideals.
Shri Naidu said that the International Solar Alliance led by India with partners like Senegal can help "light millions of homes in a sustainable manner and provide access to energy to people in the remotest corners". He called for greater collaboration in fighter terrorism, in ensuring the in freedom of navigation and stated that India stands ready to enhance defence and security partnership with Senegal. He also called for India and Africa to strive together to make global governance more equitable and work towards an expanded UN Security Council.
"It is high time the African continent, which has 54 countries and India which accounts for one-sixth of the world population get their due share in the United Nations Security Council", Shri Naidu said.
Vice President attends India-Senegal Business Event
Later in the day, Shri Naidu attended an India-Senegal business event in Dakar and addressed the business community there. The Vice President noted that despite the pandemic, there was a welcome growth in economic and trade ties between our two countries and bilateral trade has crossed a record high of US$ 1.65 billion in 2021-22. He also expressed happiness that the bilateral trade has been showing diversification, both in imports and exports.
The Vice President observed that there is immense scope for Indian companies to investments in Senegal, especially in agriculture, healthcare, ICT, mining etc. Shri Naidu mentioned the success of CEDT, the Centre for Entrepreneurship and Technical Development, set up as a grant project by India in Dakar, which has 1000 students from Senegal and 19 other African countries.
Stressing the need to strengthen B2B exchanges to tap potential unrealised areas, Shri Naidu appreciated the Confederation of Indian Industry (CII) for making an effort and mounting a business delegation to Senegal.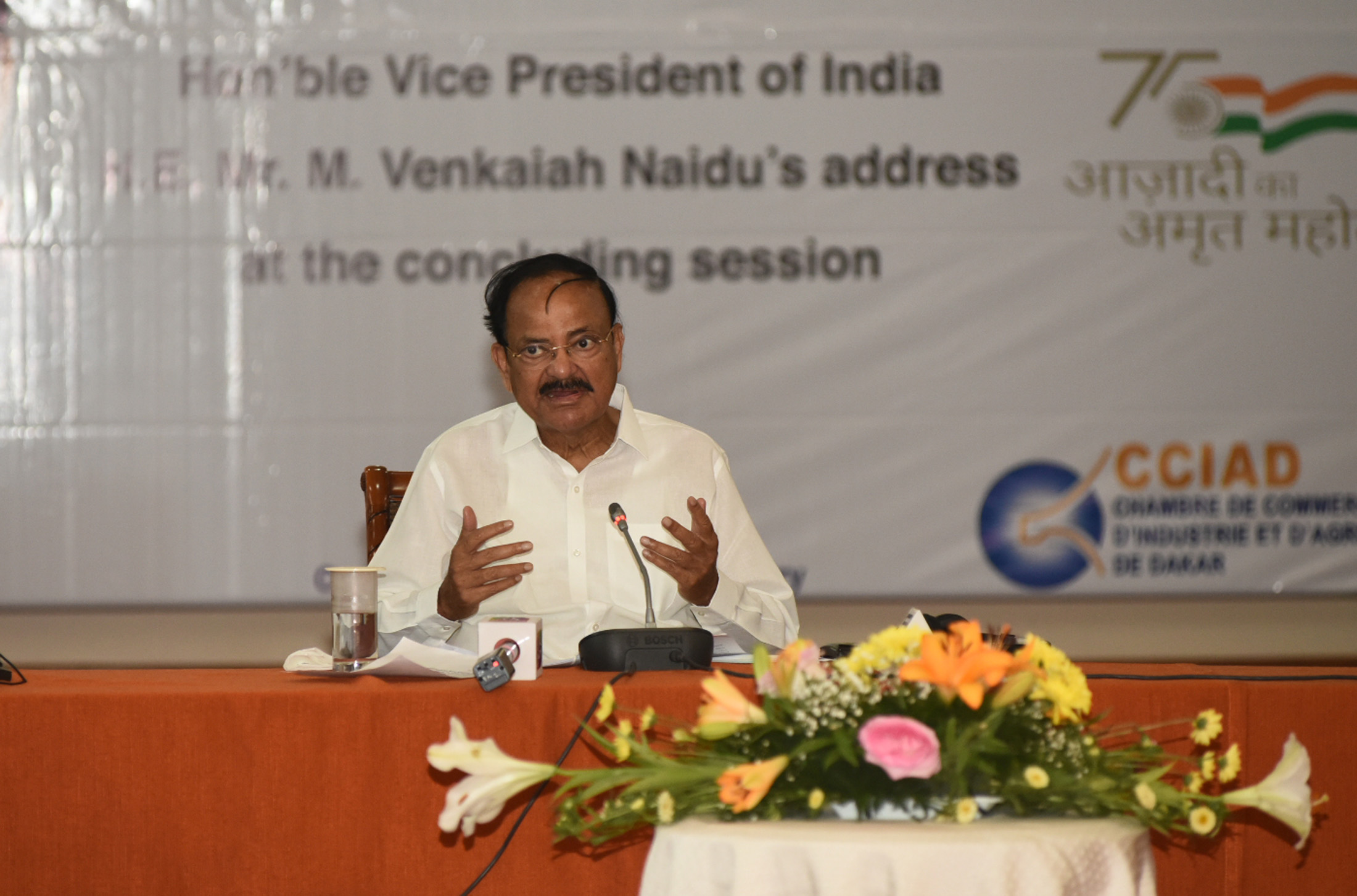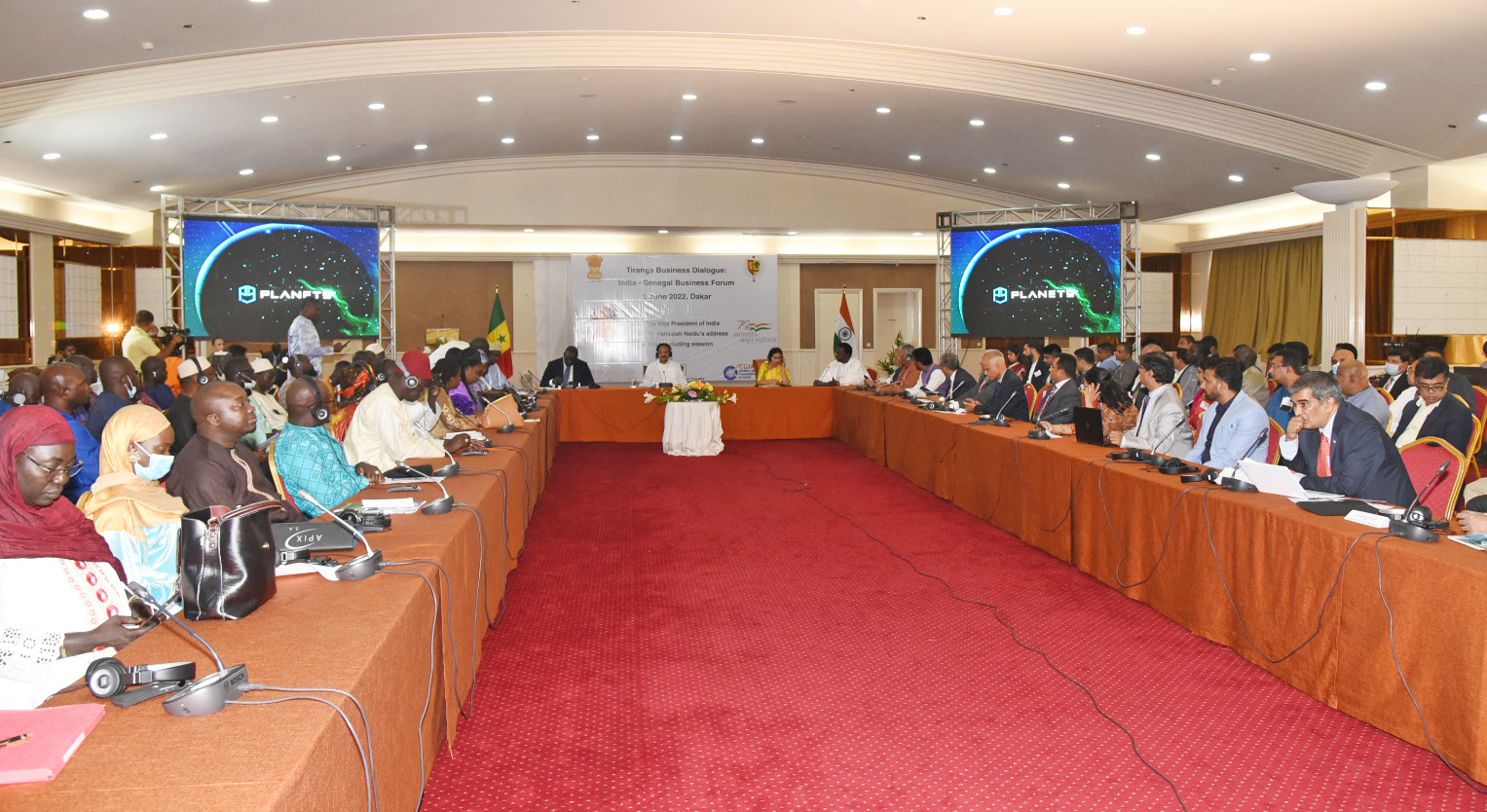 The Vice President, Shri M. Venkaiah Naidu addressing an India-Senegal business event in Dakar, Senegal on 3rd June 2022.
In this visit, Shri Naidu is accompanied by Dr. Bharati Pravin Pawar, Minister of State for Health and Family Welfare, Shri Sushil Kumar Modi, Member of Parliament, Shri Vijay Pal Singh Tomar, Member of Parliament, and Shri P. Raveendranath, Member of Parliament, senior officials from Vice President Secretariat and the Ministry of External Affairs.
******